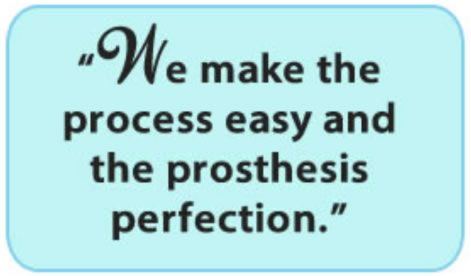 We are here to make your life easy! Artistic Dental Lab has been improving the lives of the clinician, the staff, and the patient since 1970. Yes, it's a bold statement but it's true. So whether it's a digital or conventional impression, an implant, a smile make-over, or a veneer – we will make the process easy and the prosthesis perfection.
Obviously, you want the highest quality and precision. Every lab will claim to give you this. So here you go again, we guarantee you the finest fit, function, and marginal integrity. The difference with us is we provide this consistently, with so little of your chair time involved, because our restorations drop right in and need little to no adjustments. Your staff will be happy to find that our staff is easy to communicate with, will answer all of your questions accurately and promptly, and you'll receive your cases on time. The cherry on top, is that our artistry is better than anyone else too. Actually, we built our reputation on exquisite anterior restorations.

We've spent 50 plus years as a family business providing trouble-free dentistry. During this era of being understaffed, we are blessed to have 3 generations of family – so you won't have to worry about technician turnover and the inconsistent quality that will result. Our digital team is elite dental technicians and digital dental experts. They are not inexperienced "computer enthusiasts" learning to make teeth on the job.
We pledge to be your partner and ensure your success by providing you expert service and knowledge, an easy and trouble-free relationship, and stunning restorations that fit perfectly time after time.